Current Weather Conditions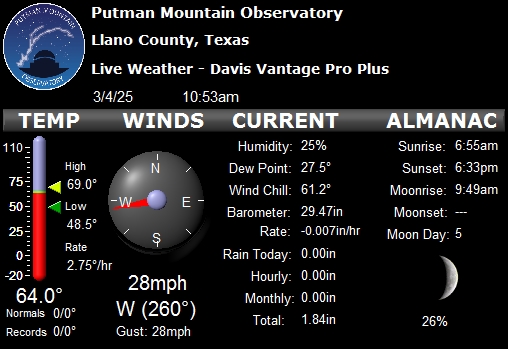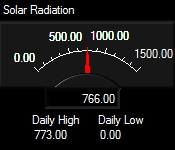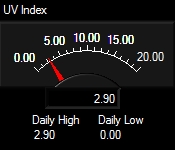 Forecast
Partly Cloudy

Partly cloudy. Lows overnight in the mid 40s.

Clear

Except for a few afternoon clouds, mainly sunny. High around 75F. Winds light and variable.

Mostly Cloudy

A mix of clouds and sun early, then becoming cloudy later in the day. High near 75F. Winds SSE at 10 to 15 mph.

Chance of a Thunderstorm

Cloudy skies during the morning hours followed by scattered showers and thunderstorms in the afternoon. High 69F. Winds S at 10 to 15 mph. Chance of rain 40%.

Partly Cloudy

Partly cloudy skies. A stray shower or thunderstorm is possible. High 79F. Winds S at 10 to 15 mph.

Clear

Sunny. High around 80F. Winds NW at 10 to 15 mph.

Clear

Sunny skies. High 71F. Winds NNE at 5 to 10 mph.

Weather Underground Radar: San Antonio
Weather Underground Weather Map large version – click here
All Sky Cam Current Image
---
All Sky Cam Video
Click the play button above.  For full screen, click the full screen icon on the right of the toolbar.  This time lapse video runs from the All Sky Camera from the prior night. During the day, the All Sky Camera is off.  During the night you can see the Milky Way moving across the sky.  If you're lucky, you may see streaks across the sky from meteors, the ISS and aircraft.   North is at the top, west is to the right, east is to the left and south is toward the bottom of the video.